Αναζήτηση Θέματος
62

nd Annual Meeting of the European Association for Animal Production (EAAP)
29 Αυγούστου - 2 Σεπτεμβρίου 2011
The main theme of the meeting will be
"The importance of animal production for food supply, food quality and environment"
, which are hot topics in view of the current worldwide demands for both the livestock industry and human society.
The program will cover all aspects of scientific achievements within animal production, including genetics, physiology, nutrition, management and health. We are also planning topics related to fish farming and the relationship between the green and blue sectors.
We will have the opportunity to attend a select number of presentations and study posters from a great number of scientists from the whole of Europe, as well as take part in workshops and discussions of the latest and most relevant research in the field of Animal Science and Aquaculture.
This is a unique occasion for updating knowledge and acquiring new ideas, and we especially encourage young scientists and students to attend.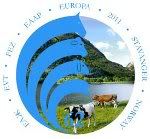 Πληροφορίες:
Πηγή: eaap2011.com